This category contains all of the available classes to play in Chrono Tales.A class is what a character's power based on.There are five beginning classes: Assassin,Mage,Scholar,Warrior and Priest.
WARRIOR
Warrior has a strong personality  that can cause a huge melee damage.He also has an ability to blocked every single damage because of his high physical defense and.However they are not good in dealing damage in a ranged manner.
FEATURES
Strong physical  defense
Can be able to deal greatest melee damage
WEAPON

MAGE
Their low stamina and defense may put them in danger at times in battle,but their ability to deal huge magic damage makes up of their weakness.Having a perfect control of ice spells and freezing enemies makes them a biggest threat to Hell force.
FEATURES
Medium ranged magical spells
Has an ability to absorb physical various damage
WEAPON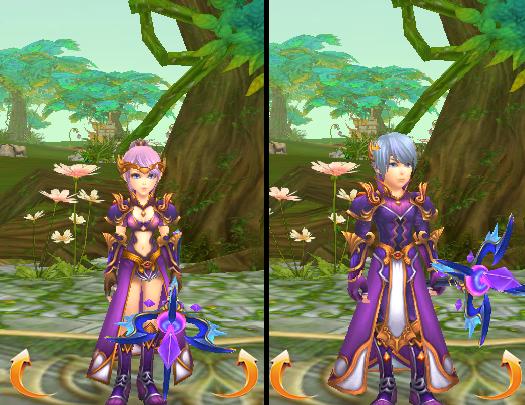 SCHOLAR

A genius and enthusiast ,these are  perfect ways to describe theScholars.  They are the most mysterious led by Raymond,specialized in ranged physical attack.And they can cast a variety of self-developed devices to damage their foes.However they are too vulnerable in magic attacks.
FEATURES
Has an ability to cause various stunts to confuse enemy
Specialized in ranged physical attacks
WEAPON

PRIEST

Also known as "The Life of every Party".By  inheriting the power of Water Spirit,priest have a good command of unusual spells which can place peoples in various states.Unlike Mages, Priests have larger mana pools and more buff spells at their disposal.Their most effective role though, is as a healer. A good Priest in a party keeping everybody alive is often the difference between life and death."
FEATURES
Many Party-based skill buffs
Capable of reviving and curing people
Can inflict paralyzation

WEAPON
ASSASSIN

Quick and agile, the Assassin relies on fast-paced melee combos.They suddenly appear near a unit and always frightened their opponents with swift attacks.Having a low HP and defense might lead them into dangerous position.However they can hardly be hit coz their high dodge.

FEATURES
Has an ability to go stealth
With high dodge and deals more critical attacks
WEAPON